SkillsUSA Massachusetts
Champions at Work. Empowered to Succeed
6-11-2020 - SPECIAL ANNOUNCEMENT - TONIGHT! JOIN US BY CLICKING THIS LINK www.maskillsusa.tv
​
​
​
​
3-24-2020 - SPECIAL ANNOUNCEMENTS:
​
​
​
​
3-16-2020 - SPECIAL ANNOUNCEMENTS:
SkillsUSA Massachusetts, Inc. has continued to monitor the Coronavirus (COVID-19) situation closely and has considered all updates and concerns raised by our members, advisors, school district administrators and community members. All can agree there is no greater priority than the health and safety of every person involved with SkillsUSA Massachusetts, Inc.
After careful deliberation, based on the most recent developments and under the proclamation of a state of emergency by the Governor of Massachusetts, the subsequent declaration of a national emergency by the President of the United States and the banning of gatherings greater than 25 people by the Governor of Massachusetts, the SkillsUSA Massachusetts Board of Directors gathered in emergency session, via Zoom Meeting on Monday, March 16, 2020 and has, with great sadness voted to cancel all SkillsUSA Massachusetts events and conferences through May 16, 2020 including our State Leadership and Skills Conference planned for April 30, May 1&2, 2020.
We are incredibly saddened by the circumstances which have lead us to no choice but to make these difficult decisions however in the interest of health and safety we are confident this is the correct course of action.
Please know how enormously grateful we are for your dedication and hard work in planning for the State Conference each year. We understand the enormous amount of work that has already been put into the 2020 event and we are so sorry our students will not be able to experience the fruits of your labor in 2020.
Please reference the OFFICIAL NEWS BULLETIN found HERE for details of our cancellations and we look forward to planning for next year.
​
1-12-2020 - ANNOUNCEMENTS: Registration is now open for the 2020 SkillsUSA MRE Challenge! Are YOU up to the Challenge?
Register your Chapter's team HERE! Watch the 2019 MRE Challenge Video HERE!
​
​
​
1-6-2020 - ANNOUNCEMENTS: New Board Members Elected!
Congratulations to our two new Board Members! SkillsUSA Massachusetts is proud to announce the election of two new members to our Board of Directors. Kevin Gaugush, Senior Vice President - Human Resources at Clean Harbors in Norwell, MA and Jil-Lyn Wonoski, Director, New Business Development & Marketing at Advantage Truck Group, Shrewsbery, MA. We are excited about the talents and skills that both Kevin and Jil will bring to our Board and we look forward to featuring them in our Welcome Wednesday series.
​
1-2-2020 - ANNOUNCEMENT: Chapter Advisor's Handbook Available for Download!
The Chapter Handbook is updated annually to include program information-policies, procedures and pricing. Download your copy HERE and be "in-the-know".
​
9-3-2019 - POSITION ANNOUNCEMENTS: SkillsUSA Massachusetts is hiring for part-time, consultant positions. Consider joining our team!
Applications Deadline: September 15, 2019. SkillsUSA Massachusetts is accepting applications for three part-time consultant positions: Conference
Management Specialist, Student Leadership Specialist and Curriculum & Professional Development Specialist. Position Descriptions, details and deadline
information can be found HERE.
​
The SkillsUSA competition theme is used throughout the year as the topic to be addressed by contestants in the Chapter Display, Prepared Speech
and Promotional Bulletin Board competitions at the local, state and national levels. The topic to be addressed is how this theme speaks to the Program of Work
in the area of Professional Development.
​
8-15-2019 - ANNOUNCEMENT - Support SkillsUSA Massachusetts while Shopping at Amazon
Shopping is always easy with Amazon. #StartWithaSmile at smile.amazon.com for your shopping and Amazon donates to Skills USA Massachusetts.
Link: http://smile.amazon.com/gp/charity/homepage.html?orig=%2Fgp%2Fbrowse.html%3Fnode%3D12745394011&ein=04-6357749
​
7-31-2019 - ANNOUNCEMENT -

The 2019-2020 State Executive Council have completed their training and have been officially installed as State & National Officers. Meet your officers

here

!
​
The 2019 State Technical Standards for the Massachusetts SkillsUSA Championships
The 2019 State Technical Standards have been released and can be accessed here. Every contestant and Advisor should reference this document for official information regarding their competition. This document and the National Technical Standards, where referenced, are the ONLY documents which contain official contest information.
​
1-28-2019 - ANNOUNCEMENT: Join us for SkillsUSA Night at the Worcester Railers Hockey Game! This event is open to ALL SkillsUSA members, advisors,
alumni, friends, families and the CTE community. Come out to the game, have fun, win prizes and celebrate with us because, "life is more fun when we STICK together!"
Buy Tickets here!
1-23-2019 - ANNOUNCEMENT: SkillsUSA Massachusetts is proud to announce a partnership with Trade Hounds! Trade Hounds is a mobile app for the hard-working tradespeople of America. If you're in the trades, download the Trade Hounds App on the App Store here and on Google Play here to check out the unbelievable things happening on job sites across the country.
Mission Statement
SkillsUSA's mission is to empower its members to become world-class workers, leaders and responsible American citizens.
SkillsUSA improves the quality of America's skilled workforce through a structured program of citizenship, leadership, employability, technical and professional skills training. SkillsUSA enhances the lives and careers of students, instructors and industry representatives as they strive to be champions at work.
​
About SkillsUSA Massachusetts
​
SkillsUSA Massachusetts, located at 250 Foundry Street, South Easton, MA is a state association of SkillsUSA, a national organization serving more than 300,000 high school and college students and professional members who are enrolled in training programs in technical, skilled, and service occupations, including health occupations. In Massachusetts we serve more than 34,000 students, teachers and administrators within 51 high school and college programs.
​
SkillsUSA prepares America's high performance workers. It provides quality education experiences for students in leadership, teamwork, citizenship and character development. It builds and reinforces self-confidence, work attitudes and communications skills. It emphasizes total quality at work, high ethical standards, superior work skills, life-long education and pride in the dignity of work. SkillsUSA also promotes understanding of the free enterprise system and involvement in community service activities.
​
Theme
The SkillsUSA competition theme for the 2019-20 year is: SkillsUSA: Champions at Work, I'm Ready
​
The topic to be addressed by contestants in the Chapter Display, Prepared Speech and Promotional Bulletin Board competitions is how our theme:
SkillsUSA: Champions at Work, I'm Ready addresses the SkillsUSA national program of work in the area of professional development.
​
​
​
​
​
​
​
​
​
​
​
​
WorldSkills raises the profile and recognition of skilled people and show how important skills are in achieving economic growth. To learn more about WorldSkills click

HERE

!
WorldSkills seeks to:
Inspire
We inspire young people to develop a passion for skills and pursuing excellence, through competitions and promotions.
Develop
We develop skills through global training standards, benchmarking systems, and enhancing industry engagement.
Influence
We influence industry, government, and educators through cooperation and research — building a global platform of skills for all.
​
Every two years, the United States sends a delegation of its most talented young, skilled workers to compete in the olympics-style WorldSkills Competition (WSC).
To learn more about WorldSkillsUSA and see our members in action at WorldSkills click

HERE

!
​
​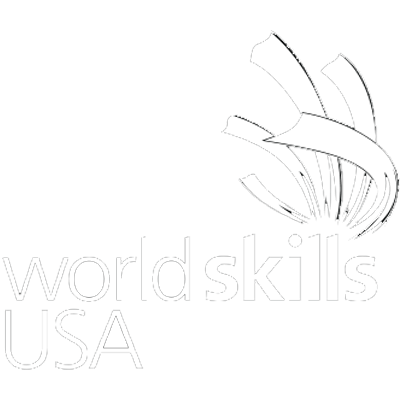 Improving our world with the power of skills