SkillsUSA Massachusetts - Our Time is Now



The SkillsUSA competition theme for the 2022-23 school year is: SkillsUSA: Our Time is Now
The topic to be addressed by contestants in the 2023 SkillsUSA Chapter Display,
Prepared Speech and Promotional Bulletin Board competitions is our theme, "SkillsUSA: Our Time is Now."
​
For more information on the 2022-2023 SkillsUSA Theme click HERE
COVID-19 Enforcement and Compliance Statement
The COVID-19 public health emergency is an on-going threat to public health. SkillsUSA's events and conferences are being planned in compliance with the most complete and up to date information on enforcement and compliance policy and actions related to COVID-19 provide the public, the education community and the business & industry community. Given the rapid evolution of COVID-19 data, procedures and requirements, the information published on this site is 'as of this date' and is subject to significant change including pivoting to hybrid or virtual activities and conferences or cancellations. This information will be updated as circumstances require.
​
SkillsUSA Massachusetts has two staff members who are certified COVID Compliance Officers. These staff members will lead the organization's compliance efforts and manage on-site COVID protocols for all conferences, events and meetings.
​
SkillsUSA Massachusetts - Updated COVID-19 Information & Masking Policy 8-1-2022
All schools are required to be in-person, full-time, five days a week. Masks are no longer required indoors or while using school transportation. However, school districts may decide whether to lift or maintain local mask requirements on buses or vans. Vaccines have been approved for everyone 5 years old and over and schools can participate in three state-funded testing programs.
SkillsUSA Massachusetts conferences are planned as in-person events for the 2022-2023 school year. District Qualifying Events will continue to be presented as on-line qualifying exams. Every SkillsUSA participant is expected to maintain an environment of mutual respect for all individuals regardless of their individual decision on masking.
SkillsUSA Massachusetts reserves the right, at the discretion of the Executive Director and Board of Directors, to reinstate a mask mandate if an increase in COVID-19 cases or transmissions is detected and/or if it is required by local, state, or federal agencies.
8-1-2022 -

2022-2023 CONFERENCES AND EVENTS ANNOUNCEMENTS
To view and print a list of Major Events and Conferences for the 2022-2023 SkillsUSA Massachusetts program year, click HERE.
7-1-2022 - ANNOUNCEMENT: 2022 National Conference Results
Massachusetts ranked 2nd among all states for contests in which we won medals, first in Career Essentials Medal recipients, first in President's Volunteer Service Awards, first in number of Models of Excellence Finalists. For a complete list of our Champions, click HERE.
99 SkillPoint Certificates Awarded (individual students) (Industry Standard Met)

66 contests (finished in the top 10) out of 97 contests entered (68%)

37 contests (won medals) out of 97 contests entered (38%)

22 Gold Medals in 12 contests out of 97 contests entered (12.5%)

26 Silver Medals in 18 contests out of 97 contests entered (17.5%)

14 Bronze Medals in 7 contests out of 97 contests entered (7%)

Models of Excellence (4 Finalists Chapters and 1 Grand Champion Chapter)

6 Career Essentials Gold Medals

8 Individual Gold President's Volunteer Service Awards

2 Chapter Gold President's Volunteer Service Awards

3 Individual Silver President's Volunteer Service Awards

National Officer Elect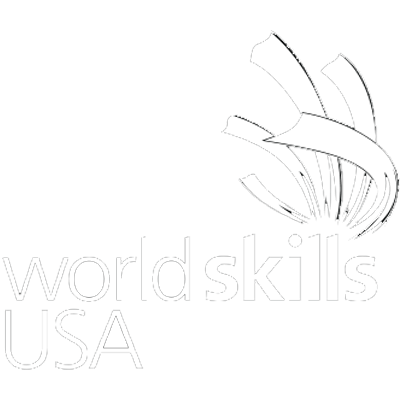 Heading 6
Heading 6
Heading 6
WorldSkills raises the profile and recognition of skilled people and show how important skills are in achieving economic growth. To learn more about WorldSkills click HERE!
WorldSkills seeks to:
Inspire
We inspire young people to develop a passion for skills and pursuing excellence, through competitions and promotions.
Develop
We develop skills through global training standards, benchmarking systems, and enhancing industry engagement.
Influence
We influence industry, government, and educators through cooperation and research — building a global platform of skills for all.
​
Every two years, the United States sends a delegation of its most talented young, skilled workers to compete in the olympics-style WorldSkills Competition (WSC).

To learn more about WorldSkillsUSA and see our members in action at WorldSkills click

HERE

!
​
​
Improving our World with the Power of Skills